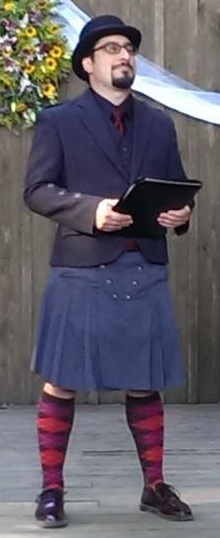 About 3 months ago, my niece
sandollar17 announced her wedding to her fiancé, Garfield, and soon thereafter, both asked me to officiate. I was tremendously flattered and, although at first a little apprehensive, i accepted.

First off, a quick trip to the Universal Life Church Monastery for a free membership to the Ordination Nation. I chose to go by 'minister' over 'reverend' due to etymology; 'minister' is "from Latin ministrare "to serve, attend, wait upon"", and 'reverend' is "from Latin reverendus "(he who is) to be respected"." On their special day, i was there to attend them. I also considered what i'd wear, and decided that, unless i could secure a formal jacket to wear with one of my kilts, i'd stick with my suit. I called The Celtic Shoppe just a few days before the wedding and, luckily, they had a tweed Argyll jacket and vest in my size.

Next up was, as you might expect, writing a short speech exalting marriage, which i whipped up with help from the Internet and from
2wanda (who regretfully could not attend, as she needed to be in DC for a work-related conference in which she would be awarded a scholarship):
(

mawwiage is what bwings us togethew today.Collapse

)
Other than a couple of small booboos on my behalf, it went perfectly. Sandy and Garfield are a couple who genuinely like and love each other, and all of us there witnessed and felt it. Best wishes to the happy couple! We love you!